Hudson Milestones continues to provide quality service to persons with intellectual/developmental disabilities. To do that, we need quality staff!
Currently, we are seeking employees to join our team!
If you are enthusiastic, dedicated, and are looking for a future within a great company, don't hesitate to apply. All full-time positions offer health benefits, including dental and life insurance; paid vacation; sick and personal leave time; and optional Tax Deferred Annuity and Credit Union.
EOE V/W/D encouraged to apply.
---
Visit our Applicant Portal to view current openings and apply today! Be sure to inquire about the Sign On Bonus available to Residential Applicants; additional information is located in the flyer links below. 
Applicants in direct care positions must pass a pre-placement physical, undergo New Jersey mandated i3 Drug Screen, attend fingerprinting, have a clear background and possess a valid NJ Driver's License (probationary/provisional not accepted).  College of Direct Support (CDS) Online training is a requirement and must be completed prior to working with clients.
Enter Hudson Milestones Applicant Portal here.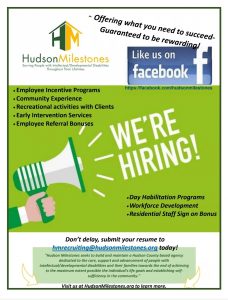 (Click here for larger image of hiring flyer.)
Virtual Hiring Events are being held as often as needed to support many areas of Hudson Milestones.
Department of Residential Services is hosts Virtual Hiring Events for Direct Support Professionals, inquire with Employee Relations to reserve your slot.
Missed our last event? Try and join us for the next one! Be sure to reserve your slot by contacting hmrecruiting@hudsonmilestones.org directly with a resume.
Hiring events are  designed for Direct Support Professionals looking for work in the Hudson County Area. Flexible hours and availability is requested to support the needs of our clients and programs. Pre-scheduled interviews will occur via video calls utilizing the Zoom app. FT/PT positions available in the evening or overnight hours. All shifts are awake shifts, experience not necessary but preferred. Will train.
Missed the last event? Inquire with hmrecruiting@hudsonmilestones.org direct. Be sure to send your resume along with a brief description of shift availability such as evenings and/or overnights.
Do you have experience and are ready to become an Assistant Residential Coordinator? We have openings for Assistant Residential Coordinators. Already managerial? Apply for one of our Residential Coordinator positions. Visit the applicant portal to apply today.
Hudson Milestones is actively looking to fill roles in Day Support Services contact hmrecruiting@hudsonmilestones.org with a resume to complete to schedule an interview. 
For Respite DSPs (Part Time Staff):
Currently need applicants with open schedules to fill part time evening/overnight/weekend shifts and Respite programs which require travel throughout Hudson County. You must be a valid NJ driver with your own vehicle for transportation/client transport. If you are looking for work less <29 hours weekly, apply today!
 For Early Intervention Therapists (Part Time Staff):
Currently need licensed therapists to service clients case by case throughout Hudson County. These are part time positions which require flexible schedules to service clients in their community.
*Seeking Speech Pathologists, Physical Therapists, Occupational Therapists, and Developmental Interventionalists
Click here for a larger view of Hudson Milestones Circular of opportunity.