The purpose of Hudson Milestones' Day Habilitation programs is to provide individuals with intellectual/developmental disabilities with meaningful and productive activities throughout the day.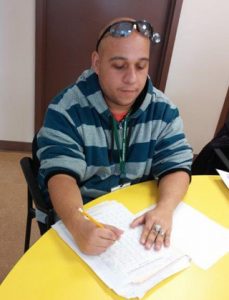 Hudson Milestones operates two Day Habilitation programs; one in Bayonne and one in Jersey City. They provide day programming for over 100 residents of the Hudson County community. These centers are places of individual expression, learning and creation. Each person can find ways to build relationships with peers while also increasing skills and interests which our innovative staff incorporate into the daily schedule. Programming is developed based on each person's interests, goals and needs. Our Day Habilitation curriculum emphasizes learning social, safety and communication skills.
We also offer activities such as learning interview techniques, how to fill out job applications and offer discussions about job skills. Additional activities include collating, labeling, small assembly and shredding. We have cleaning crews that clean the centers as well as places in the community.
As always, our focus is on providing whatever assistance a person requires for participation in his/her community to the fullest level of their capabilities.
PUTTING OUR CLIENTS TO WORK FOR YOU
A very practical aspect of this program is to provide our clients with a feeling of accomplishment for their efforts in real and quantitive ways. Our methods not only help our clients but potentially others by allowing you to take advantage of the practical, real-world services offered by our clients.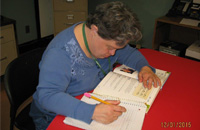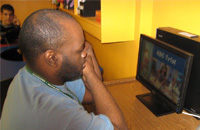 What our Clients can do for you:
Collating
Mailings
Packaging
Small assembly
Labeling
Low competitive rates
Pick-up and Delivery
For price quotes or further information
Please call
Marisa Lione
at 201-434-7783
MUSICAL MILESTONES
In collaboration with local performance artists, our program members incorporate dance, movement and singing into creative productions. More importantly, they learn that imagination is fun and that each of us is worthy of esteem, both from self and others.
WEEKEND RESPITE PROGRAM
This program serves 29 adult clients for 40 Saturdays a year from 10am – 4:00pm. The program does not operate weeks in which there is an agency closing or any Saturday during an extended holiday weekend.
The WRP operates out of our Jersey City Day Habilitation (JCDH). The adult clients are drawn mostly, but not exclusively, from those we know through serving them in our day program. It is open to people who do not live in a group home, sponsor home, or a residential placement funded by the New Jersey Division of Developmental Disabilities.
Through a range of community and center based activities, the WRP's goals are to give the program participants a chance for increased community experiences and integration along with giving family members temporary relief from their direct care responsibilities.