Have you read 'The Mile Post'? Check out the 2023 SummerNewsletter!
For passed editions, scroll down.
---
Hudson Milestones was awarded and named for being a NJ Top Work Place of 2022.
Hudson Milestones – TopWorkplace 2022 Announcement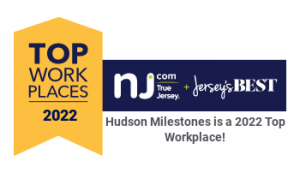 "Dear Staff, Your work, commitment, and dedication to the clients and the agency make a difference daily. Hudson Milestones identifies this as an honor. We believe in a diversified culture, mentorship programs, on-the-job continued training, growth and development, and most importantly, we believe in you."
Thank you for believing in us!
Visit the link below to view the "Thank you to Staff" Article
If you are searching for a great organization to work for, visit our employment opportunities page to learn more.
---
Past Editions Newsletters